About Us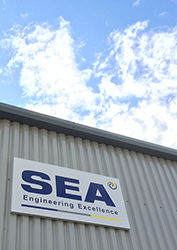 Select Engineering (Asia)Ltd is a British company with its head office in the UK and Operations in Tianjin China, working to the same values and ethical practices as those adopted in the UK. Established in 2001, SEA provides the bridge for companies to take advantage of purchasing quality assured products at a competitive price and offers delivery to the door.
Our experienced team of manufacturing experts have a network of over one hundred approved and audited manufacturers throughout China, working together with our customers, we are able to select the appropriate supplier for each enquiry or project in accordance with the customer's budget, quality requirement and delivery deadlines.
Throughout SEA's history, ensuring customers receive quality products has been of paramount importance and accreditations have been sought and achieved through the different sectors SEA work in. Overriding all of these accreditations has been the achievement of ISO 9001:2005 by Lloyd Register Quality Assurance.
Our VISION is to be recognised as a global supplier of innovative, quality engineered products offering the greatest value in the market.
Our MISSION is to deliver solutions to 'real' problems with products that are superior to our competitors. Superior in either material, finish, design, strength, cost or use. We shall achieve this by working closely with our customers for improved understanding, designing products that offer quantifiable benefits and sourcing from the most cost effective and quality assured suppliers.
about SEA Hardware
Having supplied over 1 million items of door furniture, fitted to thousands of UK doors, SEA has become a respected supplier of quality products that exceed the standards set by the industry time after time. Achieving 'Secured by Design', tested to PAS 23/24 by independent UKAS accredited test houses and being the first company ever to have a cylinder Q marked for anti bump by BM Trada, are testament to SEA's commitment to delivering high specification architectural hardware. In addition to our standard range of products we have the designers and technical expertise to design and supply tailor-made hardware for our customers.